BMWONS - 40th Anniversary - June 16-17, 2018
Details of ride routes to the event and rides on Sunday will be set later.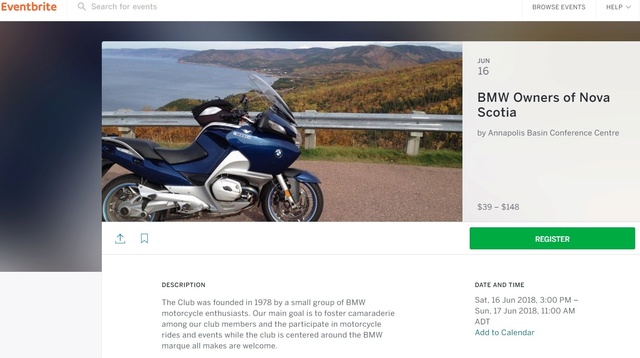 We're set for registrations for the event please follow the link below and complete your reservations:
40th Anniversary - Room and Meal registrations
Date & Time:
Sat, 16 Jun 2018, 3:00pm – Sun, 17 Jun 2018, 11:00am
Location:
Annapolis Basin Conference Centre, 761 Broadway Avenue, Cornwallis, NS B0S 1H0
Registration includes:


a one-night stay,

BBQ dinner on the evening of June 16th and

breakfast on the morning of June 17th.

Don't need a room?
Dinner only
tickets available too!
June 16th Dinner Menu - Cost includes 15% gratuity
Fresh from the Farm Dinner Buffet
-AAA 8oz. Striploin Steak
-Caramelized Onions & Mushrooms
-Amber Ale BBQ'd Chicken Breast
-Caesar Salad
-Broccoli Salad
-Grilled Vegetables
-Roasted Baby Reds with Garlic and Rosemary
-Strawberry Shortcake
-Nova Scotian Blueberry Grunt
-Iced Tea, Lemonade, Coffee & Tea
Guest room options include:•Standard Queen -
Includes open concept room with queen-sized bed, private washroom, standard guest amenities, desk, and flat screen TV. Includes dinner buffet on June 16th, breakfast on June 17th, guest pass to Fundy YMCA and free WiFi.
$138.00 - based on single occupancy
 $88.50/person- based on double occupancy
•Queen Suite -
Includes one queen-sized bed in bedroom area, private washroom with standard guest amenities, living room with lounge furniture, desk, flat screen TV and pull out sofa bed. Includes dinner buffet on June 16th, breakfast on June 17th, guest pass to Fundy YMCA and free WiFi.
$148.00 based on single occupancy
 $93.50/person based on double occupancy
FAQS


What time is check-in/check-out? - Check-in for your guest room begins at 3 pm. If you require an earlier check-in, you are more than welcome to call in advance to inquire. Check-out is 11 am.

Do you have a pool/fitness facility? - Our Guest Services Staff would be happy to offer you a complimentary guest pass to visit our neighbour, the Fundy YMCA. Here you will find a four-lane swimming pool and aquatics area that includes a whirlpool and dry sauna.

Can I extend my stay? - If you wish to extend your stay, we would be happy to offer accommodation; based on availability. Please inquire to a member of our Reservation Team directly. Please contact ABCC during business hours (8:30am-4:30pm AST) at: Toll Free: 1.888.830.4466 Extension '0' or via Email:frontdesk@abcc.ca

What's the refund policy? - Annapolis Basin Conference Centre acknowledges that plans can change unexpectantly. Cancellations are accepted up to 7 days prior to arrival. No refunds will be issued after 7 days. (Consideration will be given under exceptional circumstances.)

How can I contact the Organizer with any questions? - If you have questions specifically regarding your accommodation and/or meals, the Annapolis Basin Conference Centre would be happy to assist. Please contact us during business hours (8:30am-4:30pm AST) at: Toll Free: 1.888.830.4466 Extension '0' or via Email: frontdesk@abcc.ca

Direct reservations:1-888-830-4466 (8:30am-4:30pm Mon-Fri)


The contact person is:




Ashley (Bell) Leonard




Sales & Event Coordinator




Annapolis Basin Conference Centre




761 Broadway Avenue




Cornwallis Park,  Nova Scotia




Ext.1221




abell@abcc.ca



If you'd like to identify that you are going on the BMWONS Facebook Event click here: 40th Anniv. Event - Facebook
(the Facebook page is not a Registration for the room or meal, just letting us know you'll be going)
If you have questions regarding the BMW Owners of Nova Scotia Event itself, please contact me or Glen Greencorn directly.
Additional details to follow shortly.
Last edited by Alan Coles on Mon May 21, 2018 8:26 pm; edited 1 time in total (Reason for editing : Changed reservation contact information)
I forgot to provide details for anyone who doesn't wish to stay at the Conference Centre (camping, staying nearby, etc.), but can join us for the "Farm Dinner Buffet".

Use the same registration link (first post) and choose just "Dinner Buffet Only - No Overnight Stay". 

The price for $39 + HST (that includes all gratuities). That is very reasonable. Especially when you consider that it is for the entire meal including an 8oz Striploin Steak (aka New York Strip), chicken, all the sides, desserts and drinks mentioned above.
Don't miss out on the Door Prizes
Just to get you interested, I have confirmed giveaways for our 40th Anniversary Event, who couldn't use a new set of tires? or perhaps a new pair of boots?
As a teaser, we have secured:


One pair of boots (men's or women's) from TCX. This is the Italian boot maker who not only has a great line of boots that they sell under their own name but who also make boots for BMW Motorrad and Ducati!

One set of tires from Dunlop. That includes their new award-winning sport-touring tire the Sportmax Roadsmart III, etc. Ask Sandy MacLeod how he likes his.          Spoiler alert - they're coming out with new 50/50 and 60/40 Dual-sport tires later this year.

I expect to get confirmation of more door prizes soon, so register now and stay tuned!!!
You have to be a paid member of BMWONS to qualify for the door prizes
so here is the link to renew your membership if you haven't already - BMWONS Membership 2018
Don't forget
, if you have used our new membership software previously for membership, then please log-in using your
existing account
and renew your membership. If you haven't used this software before, you need to set-up a free account when renewing or taking out a membership. If you have trouble with it, please contact me and I'll walk you through it. If you really, really don't want to use the online membership process (much easier for us if you do), than contact our Treasurer (Brian Graves) at bmwonstreasurer@gmail.com
.

---
Permissions in this forum:
You
cannot
reply to topics in this forum