The 2019 Wetheads are going to be using a new engine. 1254cc and 134.1-HP.
More info here: BMW MOA Forum Thread with several good links
It is interesting that earlier articles that spoke about the initial test engines stated they made 149-HP. I've speculated that BMW has done one of two things:


reduced HP to meet a target reliability/durability goal

reduced HP to leave room for another easy bump in power 2-3 years down the road

No idea if either or both have any validity, but they certainly are possibilities, there is definitely a big difference between 149-HP and 134.1-HP.
Anyway, it will definitely be very interesting to try these new models. They are supposed to have Variable Valve Timing which will provide not just a significant increase in low-end torque, but also improved fuel economy from an engine that already gets good mileage.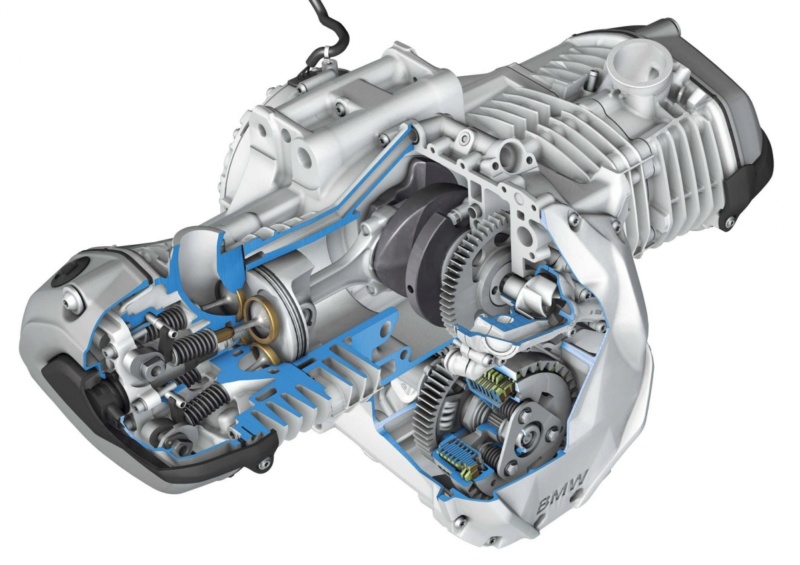 Alan Coles




Number of posts

: 616


Location

: Bedford, Nova Scotia


Registration date :

2013-03-31



Geez - how much horsepower do you need?



1st




Number of posts

: 366


Location

: Middle Sackville


Registration date :

2008-01-04



Is this question coming from a fellow who rides a K1600 (160hp)? ;-)

I think that the primary decision behind the change has less to do with HP than it does with emissions and fuel economy. Emissions reductions is why BMW started using a VVT system (VANOS in their terminology) back in 1992 on some of their cars (single VANOS) and went to a double VANOS system several years later.

A single VVT system adjusts the timing of the intake camshaft and reduces emissions and fuel consumption while increasing TQ and HP. It also improves the actual power delivery and smooths out the idling, etc. Torque is improved quite a bit at lower rpm compared to a non-VVT engine. A double-VVT (intake and exhaust) like the R1250 adds VVT to the exhaust cams and that is primarily for emissions and TQ more so than gains in HP or fuel economy.

As for needing more HP, there is likely no valid argument for that, but from a marketing perspective, HP sells. Just look at the kind of HP 4-wheel every-day run of the mill grocery getters are typically producing. If you buy a new Ford Fusion with the 2.7L V6 you get 325 HP and 380 TQ!!! In a Fusion. Look at the number of folks that will buy an 1190 or 1290 KTM based on 160 HP moving just 238kg (525lbs). There are plenty of examples of the best product in a specific field being a failure because it didn't have enough unneeded specs to lure in the average buyer. I suspect price, HP, and looks sell more units than all other attributes like usability, reliability, etc. combined.

Alan Coles




Number of posts

: 616


Location

: Bedford, Nova Scotia


Registration date :

2013-03-31




---
Permissions in this forum:
You
cannot
reply to topics in this forum