I'm likely going up on Saturday, the 11th., weather dependent, to see BMW's new lineup for 2017.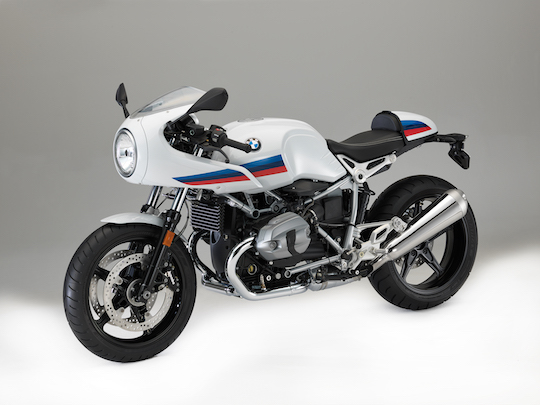 Anyone interested in carpooling? Just let me know.
Moncton Show main site
Moncton Show BMW Motorrad page

Alan Coles




Number of posts

: 616


Location

: Bedford, Nova Scotia


Registration date :

2013-03-31



Got Atlantic Motoplex's Newsletter yesterday: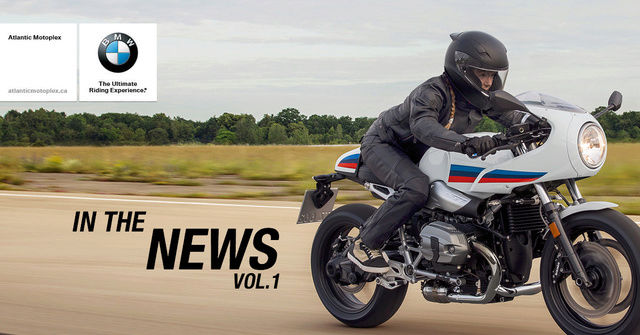 They are offering tickets to the Bike Show at a $3 discount: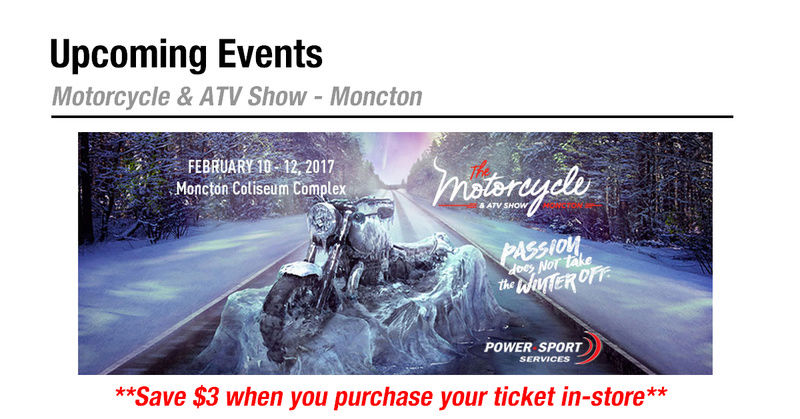 Can't wait to see the R nineT Racer and swing a leg over it. Planning on going up on Saturday, weather permitting, although, Max BMW is hoisting a big event on that Saturday that would be really nice to attend. Who knows, might have to do a road trip. ;-)

Alan Coles




Number of posts

: 616


Location

: Bedford, Nova Scotia


Registration date :

2013-03-31



word is its going to be a smaller show this year, dealers claim its to expensive to attend




victoryguy




Number of posts

: 448


Location

: Fallriver


Registration date :

2013-04-05



Certainly that has been the talk over the past few years.

However, this year will have a lot that is of interest to me and should be to many of our members. In addition to BMW having its 5-6 new models there, which I definitely want to see, there will also be the Ducati Scrambler Desert Sled, and some interesting new Triumph models. I'm also hoping that Sena will be there (as they were last time I was able to attend), to get a good look at their new 30K, 10C EVO, etc.

If I can find a few crazy folks to do the Max BMW -  Moncton Bike Show weekend with me it would certainly be a very full three-day motorcycle binge. ;-) The opportunity to do such a binge here of that scale is very rare. Max BMW day is definitely going to be a great and very full day.

My understanding for the Moncton Show problems, is that there is a double squeeze happening.

First, they're not getting the attendance that they'd like and can't bring more vendors in to try and grow it because the Coliseum is too small for their actual needs.

Second, they'd like to hold it a bit later in the spring due to the unpredictable weather, but there are other issues that prevent that. I've been told those are with the Coliseum's schedule, but don't know.

I've always felt that Nova Scotia has really dropped the ball here in that the Provincial Government has left New Brunswick to take over what used to be natural events for NS.

The natural population draw for Moncton, for anything other than a significant major event is actually not very big. A five hour return trip from Halifax means many folks just don't bother unless it is something that's important to them. That just doesn't cut it for this type of show.

I've talked to a lot of people, in government, business, etc., about the need for this province to be pro-active and build a facility about 50%-100% bigger than the Moncton Coliseum in Truro. That would almost double the population that is available within what is considered to be a "natural" market and have significant spinoff benefits. It would become a logical venue for many mid-sized events. Considered large here, but actually by tradeshow standards, small to medium.

Most people have absolutely no concept of the kind of money and spin-off activities that a large tradeshow generates.

I don't know what the Canadian Auto Shows generate, never been to one, but, the four US shows are absolutely insane in what they generate (LA, Detroit, NY, and Miami).

I have a friend, who lives here, but who has been involved with management of Cadillac's displays at those four shows for several years. Most will think it is insane, but, just the bill for display setup and teardown, for each of these shows is $1,000,000!!! Much of that is spent locally.

Alan Coles




Number of posts

: 616


Location

: Bedford, Nova Scotia


Registration date :

2013-03-31



Thought I should put a link here to the Max BMW Event thread:
Max BMW 2017-02-11 Event
Just in case anyone here wants to help put together a great weekend trip.

Alan Coles




Number of posts

: 616


Location

: Bedford, Nova Scotia


Registration date :

2013-03-31



Your correct, weather will decide for many and some will go no matter what,
the bottom line is attendance is down by the industry and bikers..
We can blame it on Trump for now !!!!!


victoryguy




Number of posts

: 448


Location

: Fallriver


Registration date :

2013-04-05



There were a number of BMWONS members that made it to the Moncton Bike Show, good to see.

Unfortunately, the show itself continued it's downward trend and again seemed to have fewer bikes and vendors and smaller displays, etc., than previous years, but perhaps that was just my impression. No R-nine Racer which I was looking forward to seeing. Not sure what they can do to change that but it wasn't confidence building.

On the plus side, perhaps the Halifax show - Motorcycle & Powersport Atlantic Show (March 3-5), will be bigger and better than last year. Got my fingers crossed. ;-)

Alan Coles




Number of posts

: 616


Location

: Bedford, Nova Scotia


Registration date :

2013-03-31




---
Permissions in this forum:
You
cannot
reply to topics in this forum