2017 BMWONS Holiday Season Potluck Social  
Anna and I will be hosting the BMWONS 2017 Holiday Social
Date/time:
December 10, 2017, 1:00pm-4:00pm (Sunday)
Place:
88 Rutledge Street, Bedford, NS
As in the past few years, it will be a Potluck.
Please PM me with what you are thinking of bringing. Anna will coordinate and I will put up a list as it develops and modify that as things progress.
(see next post below)
Sorry for the late notice, I've been busier than normal for this time of year and got behind on things.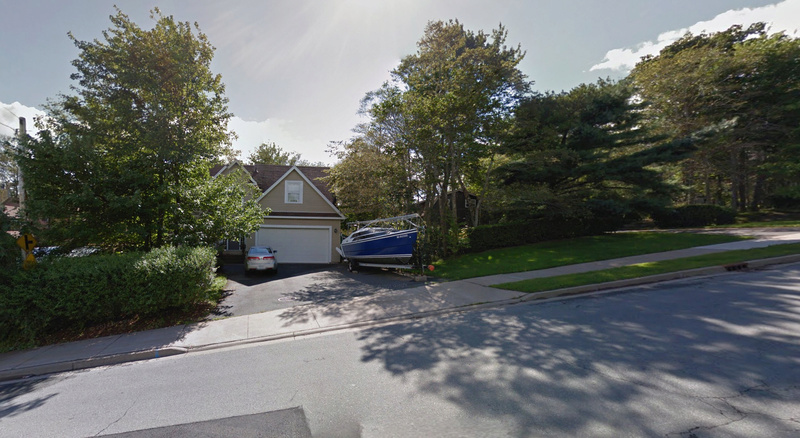 The sailboat has just been sold but there's another boat in the driveway (plus a trailer!). ;-)
I will move the trailer to make room for two cars, so the first two cars that arrive can park in the driveway, while the rest can park on Rutledge Street as well as on Emmerson Street (the side street directly across from the house.
Here's a map for those that aren't familiar with the area.
Last edited by Alan Coles on Mon Dec 11, 2017 8:44 pm; edited 1 time in total
Listing of dishes being brought:


Alan Coles and Anna Magyar - Caribbean Chicken w Rice & Beans

Ken and Kaye Jarvis - Chicken Devan Casserole

Brian and Jeanette Graves - Gingerbread Cheesecake dip

Ed Valiant - Cake

Shereef and Nagai Elkoshairi -

Hani Hakam -

Ross Evans -

Amedee and MaryAnn Aucoin -

Mauro and Diane Ricordi - Lasagna

John Engweiler - Sweet & Sour Meatballs

Bjorn Thonhaugen - Cake

Lowell and Gladys Perry

Chuck Sweet -

Sandy MacLeod and Marilyn Wright - Mincemeat Tarts

Bill and Wendy Hayter - Broccoli and Cheese Salad

Ken and Leslie George - Desert

Jerry Kutra and Sandra Hayward -

Unfortunately I won't be able to attend due to family commitments on Sunday. I would love to see the recipe for Gingerbread Cheesecake Dip - the title sounds awesome.

Enjoy and the best of the season to all.

GLen



Number of posts

: 365


Location

: Middle Sackville


Registration date :

2008-01-04



Understand.

We'll miss you - but, all the more Gingerbread Cheesecake Dip for everyone else. ;-)
Just wanna say - what a great afternoon party/get-together with lots of the club members and others and hosted by Alan & Anna. The food was super and there were lots of smiles and happy conversations around the room. Nova Scotia's weather was even kind enough to allow 2 "Hardy Boys" a road trip out to the party! Merry Christmas Folks!!!



Number of posts

: 253


Location

: Dartmouth, NS


Registration date :

2008-01-22



Thanks again to Anna & Alan for hosting the Christmas social.  I think a wonderful time was had by all!  Merry Christmas!!





Number of posts

: 69


Location

: HRM


Registration date :

2007-11-18



Thanks  to Anna and Alan for hosting a great start to the holiday festive season.Nice to renew old acquaintances and meet new members.The dishes and deserts were much appreciated.Merry Christmas and a Happy and Healty New Year to all.Ken and Kaye J.



Number of posts

: 42


Location

: Sackville


Registration date :

2007-11-22



Another great BMWONS Holiday Social.

It was great that so many were able to fit the Holiday Social in during this busy time of year. For those that weren't, we missed you and hope that your schedules will allow you to partake next year.

Last evening when I was thinking about how nice a day it had been, above the good food, our two intrepid members who arrived by bike, and everything else, what made the day special was the people. Certainly, it is always nice to be together with others, however, it was truly a very enjoyable day because of our great members who simply make being together such a pleasure.

What a great way to set the stage for 2018 - BMWONS' 40th Anniversary!!!

Your executive has started to work on a few functions for 2018 to celebrate our 40th and we will circulate that information once things get firmed up.
Thanks Anna and Alan for hosting again this year. Food and company was great and plenty of both. Rob and Gerry braved the elements. I thought about it but I was trying to keep the casserole dish and my wife ( my other dish) - warm.
Thanks again and thanks to the members and significant others that could join us.
How'd the group photo op turn out Alan and#or Bill.
Amédée and MaryAnn



_________________
Dress for the fall (i.e. crash) not the ride!



Number of posts

: 771


Location

: Waverley,NS


Registration date :

2007-11-18



The group photos were taken on Bill's camera. I'll check with him to see if he can post them here for everyone to see.


Similar topics
---
Permissions in this forum:
You
cannot
reply to topics in this forum