Courtesy of the R90S BMW group I have this link to the Hollow copper Crush washers.
Visit this site for a look into these washers popular up until a few years ago but now
an elusive item to get.
These were typically used with drain plugs (they also carry those), in older Air-head models. but can be used in other models/applications that require sealing.
Discalimer: Use at your own discretion.
https://www.belmetric.com/drain-plugs-and-gaskets-hollow-crush-gaskets-c-11_94.html?zenid=bthfn0nm5eu0r8taf7uiqft5n3
I will research this a bit more but basically I will be near this shop during our trip to relatives in Massachussetts this Christmas season.
I plan on stopping by to pick some up.
If you are interested in ordering some let me know and I can pick up if they have stock.
Cheers,
Amédée


_________________
Dress for the fall (i.e. crash) not the ride!
Thanks for the heads-up and offer Amedee. I'll likely want some, but will need to do an inventory.

Unlike at least one recent comment on that thread, I definitely like the hollow copper crusher washers. I might be wrong (wouldn't be the first time), but to me they provide the best washer seal available unless one makes the mistake of trying to use them more than once.
Thanks Amedee.  I'll likely take you up on that offer as well.

Without going into a lot of detail, the alloy used for aluminum crush washers is typically softer than that of a solid copper crush washer, thus the former usually gives a better seal.  The advantage with the copper washer is that  the solid copper washer can be annealed, re-tempered and thus reused (get red hot and then quench in water) whereas the aluminum washer is one use only and then discarded.  This ability to anneal the solid copper washer could be an advantage when having to make repairs on the road.  That said, the aluminum washer is more prone to corrosion than is the copper one so for long term use copper would be preferable.  You may have noticed that the drain washers for airhead bikes are typically copper while the fill washers are aluminum, though for the oil drain plug it should be fine with aluminum as it's changed annually.  As to the hollow copper crush washer being one use, in theory one should be able to anneal those as well but, frankly, they are so thin that once used I would tend to just discard them.



Number of posts

: 23


Location

: Nova Scotia


Registration date :

2010-02-16



That's been my feeling as well.

The hollow copper crush washers are so small that it's difficult and really impractical (for the hollow ones) to try and reuse them, but because they're so small it is very easy to carry spares in the bike tool-kit.
Picked up some crush washers the other day.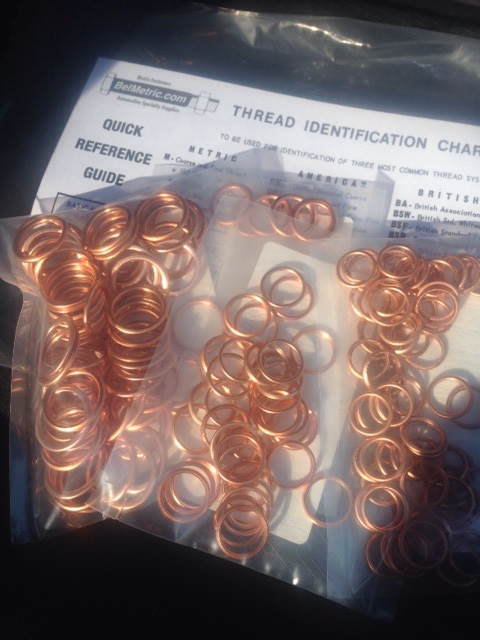 This should do a few members for awhile.
See you soon.
Hope you all had a nice Christmas. We did.


_________________
Dress for the fall (i.e. crash) not the ride!
Very good Christmas here are well Amedee. Let me know when you'd like me to pick up the washers.

Had a friend drop by yesterday afternoon on his bike, he'd been out riding with Shereef and Raouf earlier. I almost got the new-to-me Norton out for a ride with him when I ran out of gas! Shipping company required that it be shipped with the gas down to the reserve, but I think the previous owner siphoned out half or more of the reserve which left me high and dry.

A real shame to miss such a great day for a ride. I think it will be a while now before we get another riding day anywhere near as good.
Will do Alan. Too bad you didn't get out.
Was nice here too today but not quite
as sunny as I saw you had in Hfx.
The hardware place is wholesale but the
Owner likes 'his friends from NS' and
Although they were closing, took the
time to 'fix me up'.
This is a nice local business that is
handy where we are staying.
Hope you don't have too much
shovelling to do.
Amédée

_________________
Dress for the fall (i.e. crash) not the ride!
I'm hoping that the coming snow will be light. Spent the day putting snow tires on the Touareg and Anna's car, then did a quick clean and wash-down of the boat and put the two covers on it. Temperature dropped enough to turn the wet boat deck to a sheet of ice, very tricky walking around on it.

Guess it isn't hard to tell that I'm more of a procrastinator than I should be. ;-)


Similar topics
---
Permissions in this forum:
You
cannot
reply to topics in this forum